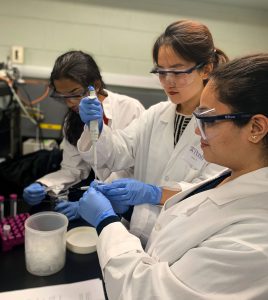 A minimum of 11.0 credit units (cu's) are required to obtain the Masters of Biotechnology degree. The core courses required for all Biotechnology students represent 6 credit units, and the track electives represent 5 credit units. In most cases one course is equivalent to 1.0cu, however, there are some 0.5cu courses available that fulfill requirements of the degree as well. Any courses listed in bold and dark red are courses the Director prefers students to take and are geared towards Biotech students. Students in the program are responsible for making sure they not only meet the course requirements, but the 11cu requirement as well.
Some courses do have prerequisites. Please double check in the course catalog to see if the course you are interested in has prerequisites. If it does, please look at the prerequisite course to see if you have taken it already, or that you have the proper background previously from classes from your undergraduate degree. If you are questioning if you have the appropriate background, please contact the instructor of the course you wish to take and ask them if they feel the course is appropriate for you. Please follow the link to tuition costs for the current tuition rates from the Schools of Engineering and Applied Science (SEAS).
Please note: all courses listed below are subject to change based on the department offering that course. The term the course is usually offered is shown after the course name, but the department that offers that course has the right to change the term, cancel, or discontinue the course. Always refer to the University's Registrar for course information (schedule, location, times, etc.): course term rosters & times offered and course descriptions.
Those who have questions regarding the program or admissions, please email us at biotech@seas.upenn.edu.